If I added up the last four days' worth of snowblower time, I'd probably cry (but I wouldn't because that's not manly or anything).
Still, somebody's gotta live up here and keep an eye on next year's trout water; look away — even for a minute — and some living-dead multinational like Nestle starts siphoning it away from under your feet.
It's not all suffering behind Satan's Snowblower or writing about busted poachers: I still find time to read what the Underground Writer's Network folks are doing, and they all got it right over the weekend.
The New Kid Kicks Butt
First up is the just-launched Fly Fish Chick, who creates a compelling picture of Craig, MT with an essay about the place. (See — told ya she could write.)
About 120 minutes after my flight touched down, I caught a late afternoon caddis hatch and this brown trout.

I love the Missouri River.

So do thousands of other anglers. It's no secret that The Missouri is a blue ribbon trout stream. Often described as a giant spring creek, it fosters an ideal setting for hatches that are as varied and abundant as the anglers that visit these waters. They come looking for the big browns and beautiful rainbows that thrive here. These are keen discriminating trout – you rarely dumb into a fish on The Missouri, especially not with a dry fly. The river is big and wide, with slow moving water that gives the fish ample advantage to see you coming a mile away.
Day Tripper Interviews Commercial Fly Tyer
Then the Day Tripper publishes a long interview with an endangered species: the US-based commercial fly tyer.
Q: Do you get the same sense of satisfaction from tying flies for others as you do for yourself?
A: There is no difference to me when I am at the vise, I put every bit the effort in to each fly
whether for large commercial orders, small custom orders, or my own personal boxes. I want the people that use my flies to experience the same level of success that I achieve with my flies. I don't ever want to feel as though a person had a bad day on the water because they had bad bugs. I try to picture each person using my flies with the same ecstatic look on their face that I get for every fish, and I suppose that is what is satisfying to me.
Singlebarbed Goes Covert… Again
For consistently funny AND useful posts, I'm not sure anyone does it better than Singlebarbed, who delves into the strategies behind dyeing beaver fur — without suffering retribution from the loved one.
My gal was out of the house this weekend so I made melancholy until her car left the driveway. Seizing the opportunity of her absence is important, if she knew what I was up to she'd swivel her head 360 degrees and chase my ass with a butcher knife.

The trick is in hiding your tracks and getting most of the chores done – all without leaving a hint that you're in her kitchen splattering noxious dye in every direction.

I had snuck a couple of Beaver "Frisbees" into the garage, intercepting the package before Madam got wise, fortunately Coffin Creek Furs ships in a plain brown wrapper, and at $15.00 for 4 square feet of hide, it's a deal that can't be beaten.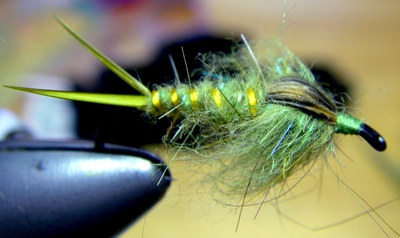 Avoiding spousal reprisals represents the kind of practical, useful advice fly fishers really need, and he's got it in spades:
I hid the dye pot in the garage again, and acted completely angelic when the "cops" showed. If you try the "I missed you, Sweetums" gambit, she'll know something's amiss. Always leave one chore on the list incomplete, that way she assumes you lounged around watching football, it throws her "crime scene" radar into complete disarray.
We're finally getting a break from the pummelling, and get this — the river appears to still be fishable. I'll let you know in a day or two…
See you on the river, Tom Chandler.